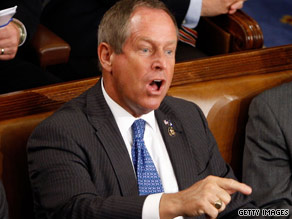 It's really rather remarkable: both sides in the health care debate are openly declaring each other to be lying. The President addresses the nation and charges that his opponents spout "bogus claims spread by those whose only agenda is to kill reform at any cost." Without mentioning Sarah Palin by name, he decries "prominent politicians" whose allegations are "a lie, plain and simple." (The full text of the President's speech may be read
here
.)
During the selfsame address, we heard an Rep. Joe Wilson blurt out his now famous "You lie!" for which he was obliged to apologize 787 billion times to date.
So the President calls his opponents liars, and they (immediately) call him a liar.
And of course, we know that all men are liars, as the Psalmist declares, but the real question before us is whether either of these sides is actually lying, as the other side claims.
Hard to say, but there is this: if the President isn't lying, then he's pretty lousy at math, with his claim that "if we are able to slow the growth of health care costs by just one-tenth of 1 percent each year -- one-tenth of 1 percent -- it will actually reduce the deficit by $4 trillion over the long term," unless by long term he meant
16,000 years.
(HT: George Copeland,
www.examiner.com
.)
And secondly, about those poor folks he highlighted who were in the midst of cancer therapy when the evil insurance companies pulled the plug on them causing their deaths? Well, it turns out that's not true either, as
Scott Harrington scrupulously detailed in an article in yesterday's Wall Street Journal.
And what of Sarah Palin's "lie"? Here's her pre-speech rebuttal, and it's pretty convincing: "Many Americans . . . made themselves heard, and as a result Congress will likely reject a wrong-headed proposal to authorize end-of-life counseling in this cost-cutting context. But the fact remains that the Democrats' proposals would still empower unelected bureaucrats to make decisions affecting life or death health-care matters. Such government overreaching is what we've come to expect from this administration." (her full op-ed is
here
).
It's time to check the facts, I'd say. Charges of prevarication are serious ones, often hard to prove (and therefore worthy of reticence in making), but truthfulness is sometimes not difficult to ascertain.